So you came to obtain information on Personal Protective Equipment its uses, advantages and disadvantages. We might just call it the advantages and disadvantages do you not think?
This article on PPE or lets us rather stay away from the acronym. And call it what we should be calling it, Personal Protective Equipment. Personal Protective Equipment has been around since the dawn of Man. Yes that is right. It is even mentioned in the Bible with Adam and Eve. When they became aware of the fact that they were naked. What did they do? They covered themselves! But let us not delve into reasons why Yes! As stated Personal Protective Equipment, has been around for as long as we can remember and with good cause to!
The essence of Personal Protective Equipment is to avoid harm to the physical body. To minimize the impact of a working hazard upon an employee.  So how is this achieved and how does it work? Well, in Europe there are many tests that is performed upon any new type of new proposed Personal Protective Equipment that is required. Personal Protection Equipment Manufacturers and Suppliers alike (If they are worth their weight in Gold) communicate with the Purchaser the end user which uses personal protective equipment on a civil construction or mining site. So in actual fact Personal Protective Equipment evolves from site work. It is not merely manufactured as some my think. I t comes out of written legal risk assessment that is produced and the prevailing conditions is assessed to establish what can be done to ensure employee, worker safety.
How Personal Protective Equipment is developed
Here is an example… A client of ours is working at height underground. Yes that is correct! The client has established through their Risk Assessment that they require a specific harness to anchor it to a roof bolt. However the Mine where they are operating conducts the same risk assessment and establish that the working at height procedure is to be revised in accordance with past historic events within the Mining Group. So they place the job on hold. Bummer! Some of you might have been there Yes? They approach the the contractor and states that with regards to past historic events and after careful consideration. The Mine Health and Safety Committee has established that two anchor points must be utilized when working at heights. So in effect this means that my client now has to go and purchase some type of Personal Protective Equipment that complies towards the Mine`s specification. They report back to the Mine that there is not such a harness on the Market. But low and behold what do we do when the client contacts us. We say no problem lets get you the required Personal Protective Equipment and let us set up a meeting with your client. See here at MSRM we are knowledgeable therefore we call ourselves Nolwazi MSRM. So we conduct the meeting with our clients client and with the Manufacturer and we establish that indeed the feasibility for a new specific type of working at heights is required. We then assist the Manufacturer to facilitate the Risk Assessment process of the new equipment. But that is not all that must happen. In conjunction with this we get the SABS involved. Along with all the manufacturer's that provide certain product to ensure a working workable piece of safety equipment can be manufactured by the main Original Equipment Manufacturer or also referred to as OEM .
What a OEM of Personal Protective Equipment does.
The OEM will then ensure that the relevant testing is performed in conjunction with any specification that the SABS may feel that is required for such a piece of Equipment. Then certification on the type of Personal Protective Equipment will be issued after rigorous testing of the end product (Obviously in Safe Manner of course) After testing is completed the OEM are then allowed to sell the new piece of equipment and the Mine will then accept it through its standards committee but only also when it went through a battery of tests of course. Due diligence is required to be applied with any new piece of Personal Protective Equipment that is required. So then our client can utilize this new piece of PPE, "Sorry – Personal Protective Equipment" Acronyms are Military based. On the topic of Acronyms why do you think they exist. Would like to get some feedback from our readers on that at info@msrm.co.za . So in short this is where Personal Protective Equipment come from. So let us look at the type of Personal Protective Equipment and its use per section. Later I will discuss why its important to wear Protective Equipment. So let Go!
Reasons to wear a Hard Hat
Hard hats are designed to protect the head against falling objects and the side of the head, eyes, and neck from any impacts, bumps, scrapes, and electrical exposure. Wearing a hard hat is a mandatory requirement set forth by the Occupational Health and Safety Act in the General Safety Regulations 3 (a) which requires employers to provide workers with hard hats and ensure that they wear them. Since hundreds of South African workers suffer from fatal head injuries every year, hard hats are crucial features of worksite safety. At least one of these injuries is directly caused by a worker not wearing a hard hat.
Although the benefits of wearing a hard hat are obvious, the question remains –should a worker wear a hard hat if there is no apparent danger to the head from anything around? The answer is yes. Even when there is no obvious danger to the worker at that moment, the environment he/she works in can prove unexpectedly hazardous. In fact, those situations are what the hard hat is made for: defending workers from sudden dangers, when they don't have the time or space to move out of the way.
Hard Hat Anecdotes
There have been numerous cases in industrial, construction, and mining sectors where hard hats have prevented workers from serious head injuries and fatal accidents. Below are some stories:
Case 1: A worker in a Mine was setting up a drilling machine at the face. A seismic event occurred and some rock came from the hanging wall and fell on top of his hard hat. If he was not wearing the hard hat the rock that fell could have crushed and impregnated itself into his skull. Instead he just got a concussion due to the falling rock that that allowed him to fall to his side close to a support section he was unhindered when found but badly shaken
Case 2: An electrical subcontractor in 
Portland
 was working at a height of about 50 meters above ground when he was hit on the head by a 6.6 lb plastic tubing, fallen from 20 meters above him. Thanks to the hard hat he was wearing, the worker escaped without real or fatal injuries.
Case 3: A worker was preparing to blast a nearby bridge in Buffalo. He was not exposed to any overhead hazard or traffic (there was no apparent danger) but still wore a hard hat as directed by standars and procedures guides and common sense. Suddenly, a 100 lb steel hatch blew off the top of the pressure blasting equipment, which was several feet away from the worker, and hit him squarely on the head. The impact of the steel hatch knocked the worker to the ground. The worker was taken to a nearby hospital, but was found to have no significant injuries and was released the same day.
Occupational Health and Safety Act GSR 3(a)  – Standard 1910.135 :
"The employer shall ensure that each affected employee wears a protective helmet when working in areas where there is a potential for injury to the head from falling objects." In its non-mandatory compliance guidelines for hazard assessment and personal protective equipment selection, OHS Act guides us tough and only suggests hard hats with regards to types of occupations this is what Nolwazi MSRM has come up with :
Bush workers
Carpenters
Civil Contractors
Electricians
Linemen
Mechanics and repairers
Miners
Plumbers and pipe fitters
Assemblers Packers, wrappers, and freight handlers
Sawyers
Welders
Laborers
Timber cutters and loggers
Stock handlers, and warehouse laborers
Hard Hat design
For the perfect hard hat design, we refer you to  ANSI Z89.1-1986, American National Standard for Personal Protection—Protective Headwear for Industrial Workers Requirements. Hard hats, essentially, consist of two parts – the shell and the suspension. Both must be in good working condition to ensure proper head protection is achieved. A hard hat resists penetration and absorbs the shock of a blow. The shell is fabricated of a material hard enough to resist an impact while the shock-absorbing lining headband and crown strap keeps the shell away from the worker's head. Believe me when I tell you its better to take the knock and wake up a minute later. A good quality hard hat for the correct application make a difference. To test it yourself put on your hard hat and ask a fellow colleague to hit you on the Head just normally with a Glove  with an open hand. But it keep in mind you do so at your own discretion Yes!
Types of Hard Hats
Hard hats are classified according to the specific impact and electrical performance requirements they are designed to meet. According to ANSI Z89.1-1986, there are two types of protective hard hats:
Type 1: These hard hats feature a full brim that encircles the helmet's dome. These hats protect the head from objects falling from above. as depicted in Case 1 and 3 above.
Type 2: Hard hats do not feature the gir
Type I hard hat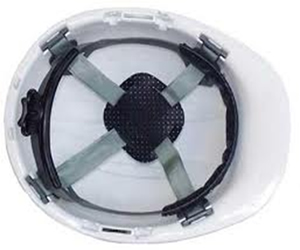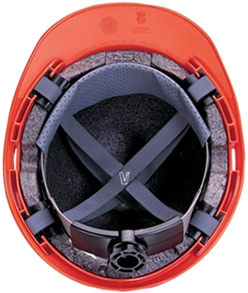 Type II hard hat
According to the revised standard ANSI Z89.1-1997, the following are the three classes of hard hats which are customized to protect against electrical shocks:
Class G (General) Helmets: These helmets are manufactured to reduce the impact of falling objects and exposure to low-voltage electrical conductors. Sample hard hats under this category are proof-tested at 2200 volts of electrical charge.
Class E (Electrical) Helmets: Called electrical helmets, these are also intended to lessen the impact of falling objects; however, they reduce the danger of exposure to high-voltage electrical conductors. Hard hats under this category receive certification only after they pass the testat 20,000 volts of electrical charge.
Class C (Conductive) Helmets: These are conductive hard hats and minimize the impact of falling objects, but offer no protection against electrical exposure.
Safety professionals, along with management, foremen, and workers need to assess job sites and tasks to determine if head hazards exist as well as their nature, extent, and source. Hard hat types should be selected accordingly.
What role does a Hard Hat Sticker play?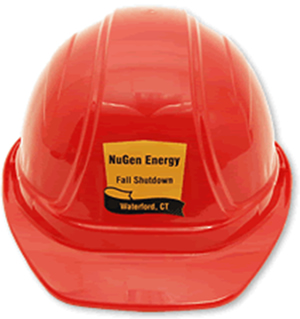 Hard hat decals and stickers help instantly identify trained and authorized safety personnel, medical aid, emergency personnel and more. Hence, responsibility can be assigned quickly in the event or an emergency. However, stickers should only be used to identify skilled personnel, a type of workforce, or for personalization. They should never be used for hiding defects in the shell. Decals should be placed at least three-fourths of an inch away from the edge of the hard hat. This eliminates the risk of the decal acting as a conductor between the inside and outside of the helmet. It is important to note that you educate your workers that you would take disciplinary steps against them should they change alter or damage a hard hat that you have issued them. By altering a Hard Hat they can endanger themselves including the reputation of your company.
Let us evaluate some questions that you may have about Hard Hats Yes!
How Do I Know What Standards My Hard Hat Meets?
Permanent labels or markings are required on hard hats by both the ANSI and the SABS head protection standards. It does differentiate types make and application of hard hats.
ANSI Standard labels: Name or identification mark of manufacturer, date of manufacture, ANSI/ISEA Z89.1, applicable Type, applicable Class, approximate headsize or range. Optional markings: Reverse donning, Lower Temperature (LT), High Visibility (HV).
SANS 1397:2003 Standard labels: Manufacturer's identity, model designation, Type, Class, reverse orientation mark (if applicable), year and month of manufacture, size or size range, user warning.
Both standards also require instructions for use to be supplied with the hard hat; be sure to review these prior to using your hard hat.
Can I Mix and Match Different Suspensions and Shells?
The manufacturer of the hard hat is responsible for conducting the ANSI, SANS, or other tests, and the two primary components (shell and suspension) are tested as a unit to meet the standards. Sometimes suspensions are tested with various shells within one manufacturer to ensure compatibility; check with your manufacturer to determine whether this is the case. Do not interchange suspensions and shells from different manufacturers because they will not have been tested to ensure compliance with the standards and would likely void certification. It important that when you issue hardhats to provide an internal number within allocated to an employee. I have seen many cases where employers just issued a hard hat when the employee misplaced his or her hard hat this comes at a terrible price.
How Do I Clean and Store My Hard Hat?
Mild soap and warm water is usually the best way to clean the hard hat and suspension. Thoroughly rinse and wipe or air dry the hard hat after washing. For tar, sap, and other materials that may not come off using this method, we recommend replacing that component because using abrasives or solvents to remove these materials may weaken the shell or suspension. It important to educate your workers on how to correctly treat their hard hats.
How Long Will a Hard Hat Last?
Taking with various manufacturers, this is probably the most important question of all! In order to meet standards such as CSA and SANS, the products must be well designed and the materials of construction are quite durable. However, a hard hat does not last forever. Work environment variables, such as sunlight exposure, temperature extremes, chemical exposure, and daily use versus occasional use, will play a part in determining the need to replace the hard hat. Hard hats subjected to more wear and tear or used outdoors in direct sunlight may need to be replaced more frequently. Daily Personal Protective Equipment inspections are the best way to determine when to replace a hard hat shell, suspension, or the entire unit. Follow the manufacturer's replacement recommendations for the specific hard hat used. Suggested replacement is based on service life (based on when the hard hat was placed into service, not the manufacture date)–suspension at least every 12 months, shell at least every two to five years. Did you know that?
Do I Need to Replace My Hard Hat If It Sustains an Impact?
Indeed and most indefinitely Yes. If the hard hat has sustained an impact, dispose of it immediately in the following manner, report to your SHERQ Manager or Health and Safety Officer even if the damage is not visible. Once the hard hat has been impacted, the materials may be weakened and may no longer provide its intended impact and penetration resistance. And you can be at Danger should you suffer another impact. It also would be ethical to destroy that hard hat to ensure no one else can suffer something worse.
What Should I Look for When Inspecting a Hard Hat?
The shell and suspension should be inspected daily before use, you must look for for-look for cracks, dents, and cuts/gauges in the shell. Check the suspension for cut or frayed straps, cracks, or tears in the plastic. For hard hats exposed to heat, sunlight, or chemicals, the shell may become chalky, dull, or have a crazing pattern or be less flexible (compare a new and used hard hat by flexing the brim). If any of these characteristics is exhibited, replace the hard hat shell and/or suspension immediately. Hard hats struck by an object should be replaced immediately (both shell and suspension). Most hard hats have "molded in" dates of manufacture. Check the date codes on shells and suspensions and ensure parts have not exceeded their maximum life as specified by the manufacturer. Ensure you keep a record of any hard hat that you destroy and the manner you used for the destruction thereof.
What About Stickers and Painting the Hard Hat Shell?
Remember as above mentioned. Pressure sensitive, non-metallic stickers or tape with self-adhesive backing are acceptable on most of today's hard hats. However there are some general guidelines to follow: Do not use stickers to cover up hard hat damage, and place stickers at least ½ inch from the helmets edge. Hard hat shells should are not to be painted unless you receive specific approval by the manufacturer.
What Can I Wear Beneath My Hard Hat?
Bandanas, skull-caps, hoods, or welder's caps that do not contain metal parts should be used only if they are worn smoothly on the top of the head. Care should be taken to avoid pressure points because the suspension should still be adjusted to provide a snug and comfortable fit. Note that it also would not be acceptable based on where you are working to have a lot of hair (I mean a bundle) of hair underneath the hard hat. Ask yourself this question – Does my style come before my life. Or does my Life come before my life. If you choose the latter it was a pleasure to let you read this Article. No pun intended. No, but seriously ask yourself that question.
Baseball-style caps should not be worn; they will interfere with the ability of the suspension to work properly during an impact. Winter liners can be worn but should be inspected to ensure they do not adversely affect the proper fit or function of the hard hat.
What Are the Key Hard Hat Warnings to Communicate?
Do not store any objects (Safety Glasses, Goggles) between the suspension and the shell of the hard hat because they may affect the protection capabilities of the unit.

Prolonged exposure to sunlight will degrade most plastic shells severely. Do not store them in direct sunlight when not in use. Rather store them away from direct sunlight

Do not use paints, solvents, chemicals, adhesives, gasoline or similar substances on this hard hat.

If the hard hat has sustained an impact, dispose of it immediately, even if the damage is not visible within your own companies procedural guidelines.

Inspect your hard hat shell and suspension frequently and report defects immediately to the responsible person in charge and do not wait for it to be replaced it must immediately be replaced.

To provide maximum protection, the hard hat must fit securely on the head and the suspension should be adjusted to a snug fit.

Never alter, puncture, modify, or engrave the shell or suspension of a hard hat action may be taken against you should you so with disciplinary steps.
So talking about hard hats let us see what is the history of hardhats and where they originated from
In the early years of the ship building industry, workers covered their hats with pitch (tar), and set them in the sun to cure, a common practice for dock workers in constant danger of being hit on the head by objects dropped from ship decks.
Management professor Peter Drucker credited writer Franz Kafka with developing the first civilian hard hat while employed at the Worker's Accident Insurance Institute for the Kingdom of Bohemia (1912), but this information is not supported by any document from his employer.[1]
In the United States, the E.D. Bullard Company was a mining equipment firm in California created by Edward Dickinson Bullard in 1898, a veteran of the industrial safety business for 20 years. The company sold protective hats made of leather. Yes I kid you not in the early days that is what was used! Now his son, E. W. Bullard, returned home from World War I with a steel helmet that provided him with ideas to improve industrial safety. With every great war there comes some sort of  progress and in 1919 Bullard patented a "hard-boiled hat" made of steamed canvas, glue and black paint. That same year, the U.S. Navy commissioned Bullard to create a shipyard protective cap that began the widespread use of hard hats. Not long after, Bullard developed an internal suspension to provide a more effective hat. These early designs bore a resemblance to the military M1917 "Brodie" helmet that served as their inspiration. And you can think for yourself the type of impact these guys sustained without the internal suspension Yes!
On the Hoover Dam project in 1931, hard hat use was mandated by Six Companies, Inc. In 1933, construction began on the Golden Gate Bridge in San Francisco California. Construction workers were required to wear hard hats, by order of Joseph Strauss, the project chief engineer. Strauss strove to create a safe workplace; hence, he installed safety nets and required hard hats to be worn while on the job site. Strauss also asked Bullard to create a hard hat to protect workers who performed sandblasting. Bullard produced a design that covered the worker's face, provided a window for vision and a supply of fresh air via a hose connected to an air compressor. In those times many workmen's safety helmets were made of steel. Now with steel we all know that its conductive right so lets continue
Aluminum became a standard for hard hats around 1938, except for electrical applications. MSA introduced the new plastic Skullgard Helmet in 1930 for the metals industry to withstand radiant heat loads of up to 350 °F (177 °C). New plastic Bakelite was used to provide protection rigid enough to withstand hard sudden impacts within a high-heat environment but still be light enough for practical use. Machinery of the times required that helmet materials used be electrically non-conducting. Bakelite resin compounded with wire screen and linen, the Skullgard Helmet is still manufactured. MSA also produced a low-crown version for coal miners known as Comfo-Cap Headgear. Interesting I bet you did not know that Fact
Fiberglass came into use in the 1940s.
Thermoplastics took over in the 1950s, as they are easy to mold and shape with heat and cost less to manufacture. In 1952, MSA offered the Shockgard Helmet to protect electrical linemen from electrical shock of up to 10,000 volts. In 1961, MSA released the Topgard Helmet, the first polycarbonate hard hat. 1962 brought the V-Gard Helmet, which today is the most widely used hardhat in the United States, including Sout hAfrica to those companies that really places value on employees. However we have seen many pioneers come forward with great success in South Africa with regards to hard hat development Today, most hard hats are made from high-density polyethylene (HDPE) or advanced engineering resins, such as Ultem.
In 1997 ANSI allowed the development of a ventilated hard hat to keep wearers cooler. Accessories such as face shields, sun visors, earmuffs, and perspiration-absorbing lining cloths could also be used; today, attachments include radios, walkie-talkies, pagers, and cameras.
So its interesting to note that hard hats evolved into the efficient systems that they are today. Here is a Video about MSA Hard hats.
That concludes Hard hats for now, now we will look into other Personal Protective Equipment
---
Safety Glasses
Why do we wear Safety Glasses in South Africa? Well to put it to you simply. We wear it because of the General Safety regulations which means that it is a requirement under the Occupational Health and Safety Act of 85 of 1993 within General Safety Regulation 3(a)
And to note that should we not have eyes we would be unable to see. I have seen many incidents where knock of copies of safety Glasses where bought for workers by their employers. And I have investigated some of these incidents myself. The main question always comes to mind. How did the employer establish the correct Personal Protective Eye Wear i.e. Safe Glasses for his employees? When you choose Personal Protective Equipment you cannot just go and purchase Safety Glasses and issue these to your employees. You might be buying a knock off. If the price seems to good to be true and you want to save money! I must tell you now that you are taking a 80/20 change. We call this terms in the Health and Safety community the Iceberg theory but more on that later.
So why do we wear safety Glasses in South Africa
Chemicals or foreign objects in the eye and cuts or scrapes on the cornea are common eye injuries that occur at work. Other common eye injuries come from splashes with oil and grease, burns from steam, ultraviolet or infrared radiation exposure, and metal chips or flying wood.
In addition, health care workers, laboratory and janitorial staff, and all other workers may be at risk of acquiring infectious diseases from eye exposure. Some infectious diseases can be transmitted through the mucous membranes of the eye. This can occur through direct exposure to blood splashes, respiratory droplets generated during coughing, or from touching the eyes with contaminated fingers or other objects. It does happen in the workplace especially when seasons also change.
Employees experience eye injuries on the job for three major reasons:
They did not receive the adequate resource training.

They were not wearing eye protection.

They were wearing the wrong kind of protection for the job. As mentioned above.
A Bureau of Labor Statistics survey of workers who suffered eye injuries revealed that nearly three out of five were not wearing eye protection at the time of the accident. These workers most often reported that they believed protection was not required for the situation. Hence the training requirement. It is crucial to provide clear concise instruction in the wearing of Personal Protective Equipment Safety Glasses Goggles.
The Occupational Health and Safety Act requires workers to use eye and face protection whenever there is a reasonable probability of injury that could be prevented by such equipment. Personal protective eye wear, such as goggles, face shields, safety glasses or full face respirators must be used when an eye hazard exists. The necessary eye protection depends upon the type of hazard, the circumstances of exposure, other protective equipment used and individual vision needs.
What are the potential eye hazards at work?
Workplace eye protection is needed when the following potential eye hazards are present:
Projectiles (concrete, dust, metal, wood and other particles)

Chemicals (splashes and fumes)

Radiation (especially visible light, ultraviolet radiation, heat or infrared radiation, and lasers)

Blood-borne pathogens (hepatitis or HIV) from blood and body fluids
Some working conditions include multiple eye hazards. The proper eye protection takes all hazards into account.

Computer Vision Syndrome, also referred to as Digital Eye Strain, describes a group of eye and vision-related problems that result from prolonged computer, tablet, e-reader and cell phone use. The average South African worker spends seven hours a day on the computer either in the office or working from home.  Special Blue Light glasses for computers can assist these workers.
Click here for helpful info-graphics about the 20-20-20 rule and digital eye strain.
Occupations with a high risk for eye injuries include:
construction
manufacturing
mining
carpentry
auto repair

electrical work
plumbing
welding
maintenance
The type of safety eye protection you should wear depends on the hazards in your workplace:
If you are working in an area that has particles, flying objects or dust, you must at least wear safety glasses with side protection.

If you are working with chemicals, you must wear goggles as a non negotiable

If you are working near hazardous radiation (welding, lasers or fiber optics) you must use special-purpose safety glasses, goggles, face shields or helmets designed for that task.
Know the requirements for your work environment. Side shields placed on your conventional (dress) glasses do not provide enough protection to meet the OSHA requirement for many work environments.
In addition, employers need to take steps to make the work environment as safe as possible. This includes:
Conducting an eye hazard assessment of the workplace

Removing or reducing eye hazards where possible

Providing appropriate safety eye-wear and requiring employees to wear it
Nolwazi MSRM can assist you in evaluating potential eye hazards in your workplace and determining what type of eye protection may be needed. See msrm.co.za/contact for more information.
How can I protect my eyes from injury?
There are four things you can do to protect your eyes from injury:
Know the eye safety dangers at your work including the area you are working and who might be working around you.

Eliminate all hazards before starting work by using machine guards, work screens or other engineering controls and do not forget to ensure you do a pre work risk assessment.

Use proper eye protection that has been issued only to you

Keep your safety eye-wear in good condition and have it replaced if it becomes damaged. (This includes impact, scratches anything that can irritate a person when wearing it)
Selection of protective eye-wear appropriate for a given task should be made based on a hazard risk assessment of each activity.
Types of eye protection include:
Nonprescription and prescription safety glasses. Although safety glasses may look like normal dress eyewear, they are designed to provide significantly more eye protection. The lenses and frames are much stronger than regular eyeglasses. Safety glasses must meet standards of the (ANSI) or European Standard CE or a specific SANS specification. Look for the CE mark on the lens or frame.

Safety glasses provide eye protection for general working conditions where there may be dust, chips or flying particles. Side shields and wraparound-style safety glasses can provide additional protection.

Safety lenses are available in plastic, poly-carbonate and Trivex™ materials. While all four types must meet or exceed the minimum requirements for protecting your eyes, poly-carbonate lenses provide the highest level of protection from impact.

Goggles. Goggles provide protection from impact, dust and chemical splash. Like safety glasses, safety goggles are highly impact-resistant. In addition, they provide a secure shield around the entire eye and protect against hazards coming from any direction. Goggles can be worn over prescription glasses and contact lenses.

Face shields and helmets. Full face shields protect workers exposed to chemicals, heat or blood-borne pathogens. Helmets are used for welding or working with molten materials. Face shields and helmets should not be the only protective eyewear. They need to be used in conjunction with safety glasses or goggles, so the eyes are protected when the shield is lifted.

Special protection. Helmets or goggles with  filters to protect the eyes from optical radiation exposure should be used for welding or when working with lasers or CO2 gas cutting
Safety glasses must fit properly to provide adequate protection. Also, eye protection devices must be properly maintained. Scratched and dirty devices reduce vision, cause glare and may contribute to accidents.
Combined with machine guards, screened or divided work stations, and other engineering controls, using the correct protective eye-wear can help keep you safe from any type of eye hazard.
Can contact lenses be worn safely for industrial jobs?
Contact lenses can't provide significant protection from eye hazards in the workplace. However, there is no evidence that wearing contact lenses increases the risk of eye injury.
Contact lenses may actually increase worker safety and productivity because they often provide improved vision in the workplace. Individuals who wear contact lenses usually have a wider field of vision than with eyeglasses. They also often have less visual distortion, especially with higher power lens prescriptions. In addition, wearing contact lenses instead of eyeglasses can improve the fit and comfort of eye safety equipment, such as goggles and full-face respirators.
Its Nolwazi MSRM believe that workers should be permitted to wear contact lenses in most eye-hazardous environments (see the AOA Guidelines for the Use of Contact Lenses in Industrial Environments). However, these workers must wear eye protection over contact lenses according to the requirements for all workers performing the same job.
In some cases, such as when hazardous chemical fumes are present, the safety of contact lenses may need to be determined on a case-by-case basis. Check your employer's safety policy regarding the wearing of contact lenses. Nolwazi MSRM can help your employer and you determine whether you can safely wear contact lenses in your workplace.
What should be done in an eye emergency?
Seek medical attention as fast and as soon as possible following an injury, particularly if you have pain in the eye, blurred vision or loss of any vision. Several simple first aid steps can and should be taken until medical assistance is obtained.
First aid for chemicals in the eye:
Immediately flush the eye with water for at least 15 minutes according to standard but we generally recommend as long as it take especially when a chemical was involved. Place the eye under a faucet or shower, use a garden hose, or pour water into the eye from a clean container. Never touch the eye or rub it. Resist and shout for assistance

If you are wearing contact lenses, immediately remove them before flushing the eye.

Do not try to neutralize the chemical with other substances only use clean clear water from a tap

Do not bandage the eye or cover it in any way.

Seek immediate medical attention while flushing the eye and keep on doing so until Medical emergency services arrive. Be gentle when flushing a persons eye as you can damage it without taking proper precautions. I.e to strong flow of water can damage the eye ball (Keep it in mind)
First aid for particles in the eye:
Never and do not rub the eye. If you need to restrain the injured do so with your safety first.

Try to let your tears wash the speck out, or irrigate the eye with an artificial tear solution.

Try lifting the upper eyelid outward and down over the lower eyelid to remove the particle.

If the particle does not wash out, keep the eye closed, bandage it lightly and seek medical care immediately especially if its a splinter!

Some particles, particularly metallic ones, can cause rusting spots on the eye if left untreated for several days. If you are unsure if the object is gone, do not delay medical care.
First aid for blows to the eye:
Gently apply a cold compress without putting pressure on the eye. Crushed ice in a plastic bag can be placed gently on the injured eye to reduce pain and swelling.

In cases of severe pain or reduced vision, seek immediate emergency assistance .
First aid for cuts and punctures to the eye or eyelid:
Do not wash out the eye.

Do not attempt to remove an object that is stuck in the eye.

Cover the eye with a rigid shield, like the bottom half of a paper cup.

Seek immediate medical care.
So what makes Safety Glasses safe to use in the Workplace?
Workers are often required to wear safety eye-wear in the course of their daily tasks at work. Newer safety glasses are more comfortable to wear and can even be quite stylish, but we do not wear them for style. The style factor came in with the trend of looking respectable at work and this must never be overlooked. Plus it allows to identify shortcomings faster with Personal Protective Equipment  relating to Safety Glasses.
The Occupational Health and Safety Act 85 of 1993 General Safety Regulation 3 (a) requires workers to use appropriate personal protective equipment  for any job which may pose a threat to a person's health.  Therefore Eye or face protection shall be worn when workers could be exposed to flying debris, particles, or hazardous liquids.  Any lenses or frames stamped with "CE" will meet or exceed European standards.  The SANS (South African National Standard) sets forth requirements for the design, construction, testing, and use of eye protection devices, including standards for impact and penetration resistance that can be expected during use of safety glasses in the work place.
The SANS designates that lenses will be divided into two protection levels, Basic Impact and High Impact as dictated by test criteria.  Basic Impact lenses must pass the "drop ball" test; a one inch diameter steel ball is dropped on the lens from 50 inches. High Impact lenses must pass "high velocity" testing.  Here 1/4″ steel balls are "shot" at velocities from 150 ft/sec for spectacles to 300 ft/sec for face shields.  All eye-wear frames, face shields, must comply with the High Impact requirement.
The impact protection level must be indicated on the device. Basic Impact spectacle lenses will have the manufacturer's mark and the Z87 or other.  High Impact spectacle lenses will also have a plus + sign following the Z87.  (Note: Lenses/windows may have additional markings. Shaded lenses may have markings denoting a shade number such as 3.0, 5.0 etc… Special purpose lenses may be marked with "S". A variable tint lens may have a "V" marking.) It also depends on where the glasses are made in South Africa or if they are brought in from overseas.
As you can see (yes, pun intended) the testing process is rigorous and not all glasses are safety glasses. So be careful from whom you purchase it. If its to god to be true do not invest in it. Nolwazi MSRM can conduct for your employer a Personal Protective Assessment and guide you towards the most cost effective reliable Personal Protective Equipment.
I was asked this question and I dare to Answer it!
Why do Safety Glasses hurt my eyes?
Its a common complaint and can be overlooked by most new Safety Officer without the relevant experience under the Knee. So if you are new to Health and Safety and want to know more read on. You may print this article but please ensure that you quote Nolwazi MSRM as your Source to your employer.
Common Causes For Safety Glasses Discomfort:
Improper fit: Safety glasses should be securely worn, but not so tightly they cause pain. Since every face is unique, one style and size of safety glasses will not fit every worker. Fortunately, most retailers of safety glasses offer a variety of styles and sizes. Safety eyewear designed for larger faces and women have become very popular. Having multiple styles and sizes of eye-wear helps ensure every worker has a proper fit.

Lens color: Each lens color has its strengths and weaknesses. The wrong lens shade could cause eye strain or fatigue from glare or bright lights. Assess each situation – person and place – to decide what lens tint offers the best vision. Retailers of protective eyewear are experts in this area and can help with finding the correct lens color.

Improper use: Wearing safety glasses pushed up on the forehead or in any way other than how they're meant to be worn can cause pressure that results in pain and discomfort. Since improper use often stems from poor fitting safety glasses, consider improper use as a red flag. Take some extra time to inspect and assess the eye-wear, change styles if necessary.
More Reasons Safety Glasses May Hurt Your Eyes
Improper Care:  Not taking care of safety glasses leads to a host of problems that can cause pain and discomfort. Dirty or scratched lenses strains eyes. Bent or broken frames can cause poor fit and uncomfortable pressure. Taking care of safety glasses helps ensure proper fit and optimum vision for the long term.

Poor condition: Whether caused by improper care, damage or age, safety glasses that are in bad shape can be uncomfortable. Scratched lenses may cause inferior vision or eye strain. No matter the quality, all eyewear must be replaced at some point. Performing regular checks of safety eyewear will ensure workers have the best safety glasses for their unique situation.

Situational fit: The variety of safety eyewear on the market exists because different people and situations call for different safety eyewear. In other words, a single pair of safety glasses doesn't work for every person and situation. Often, general-use safety glasses work fine. However, sometimes, lenses require switching due to varying light conditions, which makes convertible safety glasses ideal. Other times, changing factors like air flow or humidity requires a person have more than one pair of safety glasses.

Poor quality: Budget safety glasses are more than adequate for infrequent use. However, for those individuals who wear safety glasses all day, quality is crucial for avoiding discomfort. Investing in quality safety glasses, and taking the time to find the best fit, can eliminate many problems. Quality eyewear that's comfortable is critical for workers who wear safety glasses for long time periods.

Excessive glare: Reducing Glare as a Workplace Hazard is essential for eliminating problems with eye strain and poor vision. Glare can lead to problems with headaches and neck & shoulder tension as well.

Eye strain and fatigue: There are many sources of eye strain and fatigue. Excessive glare, improper fit, and poor lens condition are common examples. Fatigue and eye strain lead to headaches and poor vision. Plus, they can result in neck and back pain because workers try to adjust their posture to remedy the situation. Assessing each employee's situation based on all the factors in this list can help reduce, and likely eliminate, most problems of these problems.
And Here Are A Few More Reasons:
Prescription: For those wearing prescription eye-wear, whether glasses or contacts, a wrong prescription can cause eye fatigue, headaches, and poor vision. Regular eye exams can ensure prescriptions are always up to date and that corrective eye-wear does not cause problems. Headaches can result in the empoyee taking OTC and this can affect their performance or can lead to worse.
Other gear: Protective gear like helmets and visors can add pressure to safety glasses worn underneath them. Also, over-prescription safety glasses can add pressure to prescription eye-wear and lead to pain and discomfort. Experimenting with different combinations of safety gear will help workers find the most comfortable combination.
Photophobia: Sensitivity to light varies from one person to the next. What feels comfortable for one individual causes eyestrain leading to headaches for another. Solutions to the problem of photophobia include modifications to a person's work-space and tinted lenses.
Lack of use: Workers who wear safety glasses periodically, may experience "hot spots" and discomfort from extended wear. Either find different safety glasses with a better fit or wear safety glasses more frequently to become better acclimated to them.
Work environment: If the above remedies fail to bring relief, it's possible the workplace environment may be causing dry eyes, allergies or another health problem. A visit to the doctor or even a change in safety glasses to ones that better control airflow (foam-padded safety glasses, for example) are options to consider if the work environment seems to be the culprit concerning eye pain or discomfort.
Health concerns: When all other areas have been assessed as detailed above, it's time to consider that a more serious eye or other health issues may be causing the discomfort previously attributed to wearing safety glasses. If seeing an eye doctor fails to produce a solution, pay a visit to a family physician and begin to investigate the problem at a deeper level.
The Solution
Taking the time to address the common causes of eye discomfort will pay off in the end. Individually assessing every complaint and finding the root-cause will reduce worker complaints and increase compliance. A one-size-fits-all approach is not possible you need a variety of solutions to address these issues. With time and persistence, all employees can wear safety glasses comfortably. And, as a result, enjoy better eye protection and compliance to safety policies. With this in mind have you considered your workers individual needs? To assist you you can contact us at info@msrm.co.za
So talking about Eye Safety where did Safety Goggles come from let us see what is the history of safety glasses and where they originated from are
I do not know but this Lady Keeps on doing this (No pun intended)
The Inuit and Yupik people carved Inuit snow goggles from caribouantler, wood, and shell to help prevent snow blindness. The goggles were curved to fit the user's face and had a large groove cut in the back to allow for the nose. A long thin slit was cut through the goggles to allow in a small amount of light, diminishing subsequent ultraviolet rays. The goggles were held to the head by a cord made of caribou sinew.
In the early 20th century, goggles were worn by drivers of uncovered cars to prevent irritation of the eyes by dust or wind.[1] Likewise in the first ten years after the invention of the airplane in 1903 goggles became a necessity as wind blow became more severe as aircraft speeds increased and as protection against bugstrikes at high altitudes. The first pilot to wear goggles was probably Charles Manly in his failed attempt to fly Samuel Langley's aerodrome in 1903.
From this it is expected that the Safety Goggles evolved to today's Safety Glasses used today in the Working Environment.
That concludes Safety Glasses for now, now we will look into other Personal Protective Equipment
---
Hearing Protection
Have you ever heard yes that is right we are discussing hearing. Hearing protection, have you ever heard of hearing protection and the proper use of hearing protectors to prevent Noise Induced Hearing Loss ? And have you ever wondered how it will be one day to have no hearing? Have you ever communicated with a deaf person before or tried to communicate with a deaf person? Look I may write about Personal Protective Equipment but to tell you the truth you most probably take your hat off to a hard hearing or deaf person, they have a particular skill set that you my friend and I do not have. Sign language – Yes sign language is important! I am not writting just for the fun of it but also to try and show you that we should have humanity in us. If you are a new freshly trained health and safety officer and looking towards making a career within the Health and Safety arena you must (I rather feel in the mood to write a procedure now) start addressing Noise induced hearing loss otherwise referred to as NIHL in the workplace! This is the most crucial of all the efforts that you have to make. Why you ask? My question back to you – Why did you choose this vast expansive occupation of health and safety then? Health and safety is not about workers rights. It is about humanity as mentioned, at large and the protection of persons through reasonable justifiable means that is considered reasonable and practicable within the confines of the Occupational Health and Safety Act and the Mine Health and Safety Act. Now you might say, this guy is biased that is writing here. Point is I am not, matter of the fact and I can prove it. When you are in Health and Safety you are required to place your personal agenda to one side and to approach your job with integrity, professionalism and proper due diligence. If you feel that Health and Safety is not for you choose another occupation or get in contact if you really need to move your occupation from your current employer you can contact us at info@msrm.co.za
So let us discuss then Hearing Protection shall we?
What level of hearing protection do I need?
Workers and Employers should wear a hearing protector if the noise or sound level at the workplace exceeds 85 decibels (A-weighted) or dBA. Hearing protectors reduce the noise exposure level and the risk of hearing loss. This is basic knowledge yes!
If hearing protection is required, then a complete hearing conservation program should be implemented. A hearing conservation program includes noise assessment, hearing protector selection, employee training and education, audiometric testing, maintenance, inspection, record keeping, and program evaluation.
The effectiveness of hearing protection is reduced greatly if the hearing protectors do not fit properly, if they are worn only periodically, or if they are removed even for a short period of time. To maintain their effectiveness, the hearing protection should not be modified. Radio/music earphones or headsets are not substitutes for hearing protectors and should not be worn where hearing protectors are required to protect against exposure to noise.
I recently visited a site where there was a forklift operator (I wish I could place the photo here) the forklift driver was wearing Hearing Protection, but not the type you and I would be accustomed to. Under his chin was his hearing muffs and on top of head was audibles those that you buy ad use the jack to plug into your iphone . I could not believe my eyes I wanted to shout at him to stop but from experience if you do that he would not even hear me. So I watched in dismay as he connected into a my clients brand new Mercedes that bumped into a a new ford Ranger. The entire load he was carrying dislodged and stopped mere centimeters from his face. Forklift also damaged!
So what must you do?
Select hearing protection that is:
Correct for the job. Refer to the Occupational Health and Safety Act 85 of 1993 regulations 3(a) of the General Safety Regulation "If you require more information on how to care for these types of Personal Protective Equipment why not get in contact at info@msrm.co.za
Provides adequate protection. Check the manufacturer's literature.
Compatible with other required personal protective equipment, or communication devices.
Comfortable enough to be accepted and worn.
Appropriate for the temperature and humidity in the workplace.
Able to provide adequate communication and audibility needs (e.g., the ability to hear alarms or warning sounds).
What types of hearing protectors are available?
Ear plugs are inserted in the ear canal. They may be premolded (preformed) or moldable (foam ear plugs). Disposable, reusable or custom molded ear plugs are available. They should last at least three months
Semi-insert ear plugs which consist of two ear plugs held over the ends of the ear canal by a rigid headband.
Ear muffs consist of sound-attenuating material and soft ear cushions that fit around the ear and hard outer cups. They are held together by a head band.
How can I find out how much a hearing protector can reduce a worker's exposure to noise?
Manufacturers provide information about the noise reducing capability of a hearing protector referred to as an NRR (noise reduction rating) value. The NRR ratings are based on laboratory conditions.
CSA Standard Z94.2-14 defines noise reduction rating as "a single number rating that indicated the overall hearing protector attenuation, computed as the difference between the overall C-weighted level of a noise spectrum having equal energy per octave and the A-weighted noise levels under a hearing protector, using mean attenuation data less two standard deviations, derived from the experimenter-fit-procedure of the 1974 edition of ANSI Z3.19 (withdrawn) as defined in EPA (1979)".
How do I pick my hearing protectors?
The choice of hearing protectors is a very personal one and depends on a number of factors including level of noise, comfort, and the suitability of the hearing protector for both the worker and his environment. Most importantly, the hearing protector should provide the desired noise reduction. It is best, where protectors must be used, to provide a choice of a number of different types to choose from.
If the noise exposure is continuous and  intermittent, ear muffs are more desirable, since it may be inconvenient to remove and reinsert earplugs.
How do I use Noise Reduction Rating (NRR)values to determine the protection provided by a hearing protector?
The NRR, or other similar systems such as the single number rating (SNR), is a method to more accurately determine the effective exposure of a person when wearing a hearing protector. These rating systems attempt to estimate the actual sound protection provided by hearing protectors when worn in actual working environments (vs. laboratory testing situations). The "real world" results are often different than laboratory tests with the main reasons for this difference being poor fit, and lack of proper training, supervision and enforcement. For these reasons, training on the correct fit, and making sure users have a thorough understanding of hearing loss are important elements of the hearing conservation program.
Detailed calculations of the protection provided by a hearing protector involves using octave band analysis of the workplace noise and the noise attenuation provide by the hearing protector for noise in each octave band. Attenuation is defined by CSA Standard Z94.2-14 as "the reduction in sound pressure level incident upon the ear due to the application of a hearing protector or, specifically, the change in hearing threshold level that results when a hearing protector is worn."
From Appendix A
| Device type | For use with dBA | For use with dBC | Effective rating |
| --- | --- | --- | --- |
| Earplugs | Leq – NRR (0.5) -3 = xx dBA | Leq – NRR (0.5) -3 = xx dBC | 50% |
| Earmuffs | Leq – NRR (0.7) -3 = xx dBA | Leq – NRR (0.7) -3 = xx dBC | 70% |
| Dual protection | Leq– NRR (0.6) -3 = xx dBA | Leq – NRR (0.6) -3 = xx dBC | 60% |
Source: CSA Standard Z94.2-14
As an example:
Workplace noise time-weighted average (TWA) = 98 dBA
Earplug with NRR = 29 dB
Estimated noise exposure = 98 – [(29)(0.5)-3] = 86.5 dBA
CSA Standard Z94.2-14 provides further guidance on how to apply NRR rating calculations.
What is a Single Number Rating (SNR)?
An SNR is a single number rating system determined according to International Standard ISO 4869 – Acoustics – Hearing Protectors. These tests are carried out by commercial laboratories that are independent of the manufacturers. Like NRRs, SNRs are expressed in decibels and are used as a guide for comparing the potential noise reduction capability of different hearing protection devices. Since the procedures for measuring NRRs and SNRs are different, the NRR and SNR values for an individual hearing protector are different. For further details, please refer to the CSA Standard Z94.2-14.
What are the advantages and limitations of ear plugs and ear muffs?
Both types of hearing protection offer advantages and disadvantages.
Ear plugs can be mass-produced or individually molded to fit the ear. They can be reusable or disposable. On the positive side, they are simple to use, less expensive than muffs, and often more comfortable to wear when in hot or damp work areas. Some disadvantages are they provide less noise protection than some muffs, and should not be used in areas exceeding 105 dBA. They are not as visible as muffs, making it more difficult for supervisor to check to see if workers are wearing them. They must be properly inserted and inserted hygienically to provide adequate protection.
Ear muffs can vary with respect to the material and depth of the dome, and the force of the headband. The deeper and heavier the dome, the greater the low-frequency attenuation provided by the protector. The headband must fit tightly enough to maintain a proper seal, yet not be too tight for comfort. Some advantages are that ear muffs usually provide greater protection than plugs, although this is not always true. They are easier to fit, generally more durable than plugs, and they have replaceable parts. On the negative side, they are more expensive, and often less comfortable than plugs, especially in hot work areas. In areas where noise levels are very high, muffs and plugs can be worn together to give better protection.
The following table summarizes the differences between ear plugs and ear muffs.
Comparison of Hearing Protection
Ear Plugs
Ear Muffs
Advantages:

small and easily carried
convenient to use with other personal protection equipment (can be worn with ear muffs)
more comfortable for long-term wear in hot, humid work areas
convenient for use in confined work areas

Advantages:

less attenuation variability among users
designed so that one size fits most head sizes
easily seen at a distance to assist in the monitoring of their use
not easily misplaced or lost
may be worn with minor ear infections

Disadvantages:

requires more time to fit
more difficult to insert and remove
require good hygiene practices
may irritate the ear canal
easily misplaced
more difficult to see and monitor usage

Disadvantages:

less portable and heavier
more inconvenient for use with other personal protective equipment.
more uncomfortable in hot, humid work area
more inconvenient for use in confined work areas
may interfere with the wearing of safety or prescription glasses: wearing glasses results in breaking the seal between the ear muff and the skin and results in decreased hearing protection.
Why is user preference so important?
The human aspects of hearing protection are particularly important since the only useful kind of protection is the protection that is actually worn. Some people do not accept the different kinds of protectors; every human being is different, and the anatomy of the ear and ear canal can vary significantly from person to person.
It is a good idea for the employer to provide a number of different types of hearing protection from which workers can choose, keeping in mind any safety or hygienic reasons for not providing a particular kind of protector. That is, a particular type of protector should not be used if noise levels are too high or if it proves to be inadequate from a hygienic point of view. For example, ear plugs which are used in a plant setting where people reuse them throughout the day, often reinserting them with dirty fingers, can introduce dirt and bacteria into the ears, causing ear infections.
The bottom line on hearing protection is worker preference. If the workers do not like the type of protection (for example, if it is uncomfortable, does not fit well, or is impractical), they will not wear it. So its crucial to make the correct choice!
What should I know about the fit of my hearing protectors?
Follow manufacturer's instructions. With ear plugs, for example, the ear should be pulled outward and upward with the opposite hand to enlarge and straighten the ear canal, and insert the plug with clean hands.
Ensure the hearing protector tightly seals within the ear canal or against the side of the head. Hair and clothing should not be in the way.
What happens to the protection level when hearing protectors are removed for short periods of time?
In order to get full benefit, hearing protectors must be worn all the time during noisy work. If hearing protectors are removed only for a short duration, the protection is substantially reduced. The following table gives a maximum protection provided for non-continuous use of an ideally fitted 100% efficient hearing protector. For example, when hearing protection is rated with an attenuation of 25dB, if one takes off his/her hearing protector for 5 minutes in an hour the maximum protection will be reduced to no more than 11dB.
Impact of removing hearing protection
Time removed
(in 1 hr)
Maximum 25 dB Protection is reduced to (dB)
0 min
no reduction
1 min
17
5 min
11
10 min
8
30 min
3
60 min
0
Source: Removal of hearing protectors severely reduces protection. Health and Safety Executive, UK (no date)
Ear protectors must be used ALL THE TIME EACH TIME to get full the benefit of it!
How should I care for my hearing protection device?
Follow the manufacturer's instructions.

Check hearing protection regularly for wear and tear.

Replace ear cushions or plugs that are no longer pliable.

Replace a unit when head bands are so stretched that they do not keep ear cushions snugly against the head.

Disassemble ear muffs to clean.

Wash ear muffs with a mild liquid detergent in warm water, and then rinse in clear warm water. Ensure that the sound-attenuating material inside the ear cushions does not get wet.

Use a soft brush to remove skin oil and dirt that can harden ear cushions.

Squeeze excess moisture from the plugs or cushions and then place them on a clean surface to air dry. (Check the manufacturer's recommendations first to find out if the ear plugs are washable.)
Well I trust that all this information can be helpful in your working place and that you find the benefit in it. Feel free to browse our Website to show you how Nolwazi MSRM can be of assistance to you into streamlining your business in Health and Safety
---